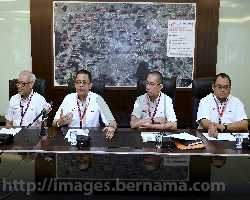 KUALA LUMPUR — Nov. 13, 2017: The decision by MRT Corporation to switch the Mass Rapid Transit 3 (MRT3) project delivery structure from a project delivery partner model to turnkey can help save billions of ringgit.
This would enable MRT Corp to seek the best financing option, as 80 per cent of the work entails boring and tunnelling that cost a lot of money.
"If we have the opportunity to save the rakyat's money, saving its costs by using this method, why not? We must do better than Lines 1 and 2.
"At the end of the day, it is about project delivery and efficiency and lowering boring cost…. I think most of us would want to have this at the right cost," MRT Corporation Chief Executive Officer Datuk Seri Shahril Mokhtar said during a briefing on the MRT Line 3 here today.
The turnkey contractor will be selected through an open-tender system for which bidding will start from Wednesday (tender briefing) to December 25. The successful bidder will be known by next mid-February. 
To qualify and participate in the tender, applicants must meet the minimum financial capacity of having a paid-up capital and a shareholder's fund of not less than RM5 billion.
As for the financing proposal, it should include a minimum financing period of 30 years and moratorium period of eight years, while the margin of financing must not be less than 90 per cent of the expected total project cost.
Shahril cited Hanoi, Jakarta and New Delhi as among cities that had used the turnkey with financing concept in rail construction.
He said the project delivery structure would not put Malaysian companies at a disadvantage as many of them have the capability to handle the work and arrange for financing.
Local civil infrastructure companies can bid for the turnkey contract by forming a consortium or a joint venture with foreign players who have the technical expertise.
"I also would like to stress that this new financing model is an option which we are providing the market. If the financing terms which the tenderers present are not competitive, we still have the right to go back to Danalnfra to seek funding," said Shahril.
In a tender notice released early this month, MRT Corp said Line 3 is expected to span 40 kilometres, 30km of that underground.
Research house CIMB Equities Research had in September forecast the project would cost between RM35 billion and RM40 billion.
MRT Corp has set two milestones for the construction of Line 3: the first phase is expected to be completed by end of 2025 and the second by end of 2026.
MRT3, also called the Klang Valley Circle Line, is a line aimed at connecting and integrating with the completed Sungai Buloh-Kajang Line and Sungai Buloh-Serdang-Putrajaya Line currently being built, as well as other light rail transit and monorail systems. — Bernama
Comments
comments